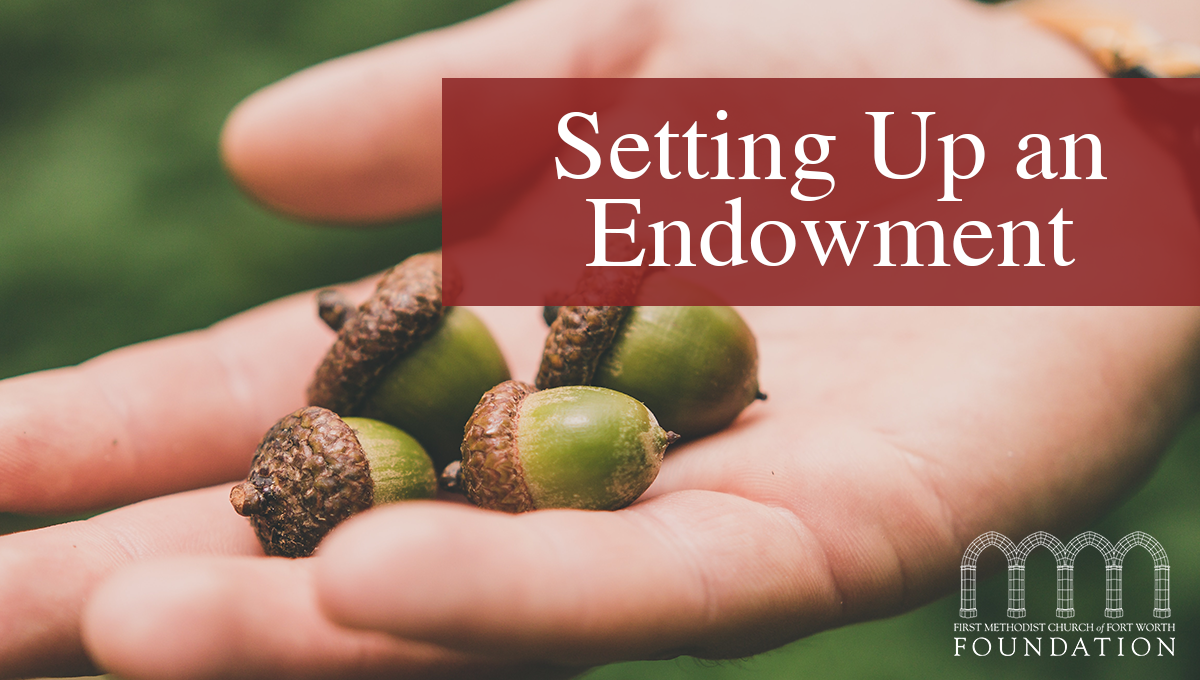 Setting Up an Endowment
By Sid Johnston
A few months ago, we shared with you how your gifts to the Foundation can be designated to the Foundation to support a specific area of ministry at First United Methodist Church of Fort Worth. Another way you can support the church through the Foundation is by setting up an endowment.
What is an Endowment?
Unsure what an endowment is? Simply put, an endowment is a donation of money or property that uses the resulting investment income for a specific purpose. Also referred to as a "legacy gift," endowments are left untouched in their original form, often called the corpus. The money remains perennially intact and works to generate income on an ongoing stream that ranges from modest in a slow economy to more robust when economic conditions are healthier.
Using an intricate formula, Foundation leaders are able to have a sense of security about that income stream over time, assuring endowment money can continue its path from Foundation investments into the church's accounts year after year, to be used at church leaders see fit. Here at the Foundation, we manage several endowment funds set up by individuals, families, estates, other organizations, and businesses to help provide reliable funding to the ongoing ministries and mission of the church today and in the future.
Sample Wording for an Endowment
The following can be used for an endowment:
To the FIRST METHODIST CHURCH OF FORT WORTH FOUNDATION, INC., a Texas Non-Profit Corporation, located in Fort Worth, Tarrant County, Texas ("Donee"), in fee simple and free of trust. For investment purposes, the property comprising this gift may be merged with the Donee's general investment assets, but the gift shall be entered in its books as the _______________ ENDOWED FUND, and shall always be so designated. The income therefrom, but not the principal, shall be used for such purposes as the Donee's Board of Directors or applicable governing body, in its sole discretion, determines are appropriate. However, i) any addition to or modification of Donee's physical facility; or ii) any communication, promotional, advertising, or marketing materials issued or published by Donee in connection with its disbursement of income from the _______________ ENDOWED FUND shall clearly, substantially, prominently, and permanently identify the donor as _______________, and/or the _______________ ENDOWED FUND. Further, Donee shall furnish periodic reports of its administration of the _______________ ENDOWED FUND to the personal representative and/or heirs, if any, of my estate. Such reports shall be furnished no less often than annually.
Creating a Legacy
Every day we work toward building a life tied to our hopes and dreams that reflects our values and ideals. When you set up an endowment with the Foundation, you secure a legacy of generosity that reflects this life you've worked so hard to build.
To learn more about setting up an endowment, or if you have questions, please do not hesitate to call us here in the Foundation office. You may call me at 817-336-5698 or email me at sid.johnston@fmcfoundation.org anytime. Together, we can work to create a legacy of vision and generosity!
PS - Stay connected to Foundation news, announcements, as well as ongoing ways you can support the church you love by subscribing to our email list and following the Foundation's Facebook page.